Community Generation Roadshow 2019
Visit an open house near you to learn how community generation can benefit your municipality.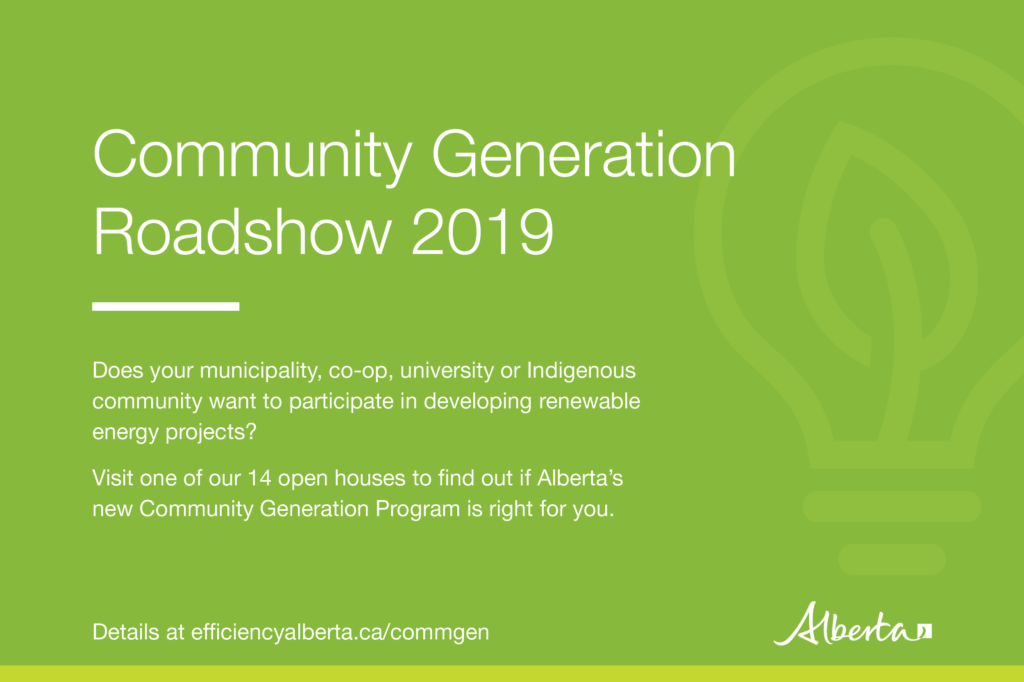 Communities, organizations and individual Albertans are exploring small-scale energy generation to bring revenue, jobs, training and other economic, social and environmental benefits to their communities. Municipalities and community groups across the province have an opportunity to play a prominent role in supporting Alberta's energy transition by developing their own renewable energy projects. These projects will enable Albertans to share in the benefits of community scale renewable energy generation
Community Generation
Community generation brings eligible community groups like municipalities, co-ops, agricultural societies, First Nations, Metis Settlements, non-profit organizations, and post-secondary institutions together to produce electricity by launching small-scale renewable energy projects such as wind, biomass, hydro, solar or geothermal.
While many Albertans already participate in micro-generation projects to provide electricity for their own use, electricity developed through community generated projects is connected to the province's distribution system and allows communities to directly participate in energy projects through full or partial ownership of the projects.
Participation in community generation projects gives Albertans the ability to produce renewable energy and generate revenue by selling electricity to the grid.
To support local community generation projects, the Government of Alberta has committed $200 million of Climate Leadership Plan funds over 20 years to launch a new Community Generation Program.
You're Invited
The Government of Alberta will be hosting a series of open houses across the province in January and February 2019 to provide more information and answer your questions about the Community Generation Program.
Open house participants will learn about community generation, its potential benefits, available funding avenues for projects and much more. Drop into an open house near you!
The Municipal Climate Change Action Centre (MCCAC) will be in attendance at a number of the open houses providing information to municipal representatives on a new Community Generation Capacity Building Program and gathering feedback to inform the development of a community generation funding program for municipalities. See the table below for all open house dates, or visit the MCCAC Events page.
Community generation supports Alberta's target of 30 per cent renewable electricity generation by 2030 by helping Alberta transition to an electricity system that is cleaner, reliable and more sustainable.
The Community Generation Program is made possible by Alberta's Small Scale Generation Regulation, which outlines new rules to enable small-scale and community projects, including definitions, setup and operation. These rules also help reduce regulatory and financial barriers for generators.
More Information
For more information, visit the Community Generation Online Resource Hub at efficiencyalberta.ca/commgen or call 1-844-357-5604.