5 electric vehicle myths busted
3 minute read
People can travel farther, reduce costs, and lower greenhouse gas (GHG) emissions with electric vehicles. This post puts 5 common myths about electric vehicles in Alberta to rest.
Myth #1. Electric vehicles cannot travel long distances
The travel range of electric vehicles (EVs) varies depending on the type of vehicle. There are two types of electric vehicles: battery electric and plug-in hybrid.
Battery electric vehicles solely use electric energy stored in the battery to power the vehicle. A plug-in hybrid uses both electric energy stored in the battery, and gas. This allows the car to switch to gas after it runs out of electric charge.
Plug-in hybrid versus battery electric vehicles. Source: Drive Electric Vermont
Newer generations of EVs use batteries capable of a higher range of travel. As technology rapidly improves, battery electric vehicles can travel farther distances on an electric charge, with some achieving up to 500 kilometers on one charge.
If your fleet requires more flexibility for traveling at a distance, plug-in hybrids enable shorter trips using electricity (up to almost 100 kms) and, longer trips using a combination of electric and fuel powered. Choosing either type of electric vehicle will result in fuel savings and reduced costs.
There are tools that allow consumers to compare the annual fuel costs of a traditional vehicle with an electric vehicle. In addition to fuel savings, very little maintenance is needed for EVs.
Myth #2. Electric vehicles don't work in the winter
Gone are the days of standing outside in freezing temperatures to refuel your vehicle at a gas station. Instead, plug in at home or the office and let the car charge overnight. Electric vehicles do not use a gas engine to start and there is no oil to become too cold or thick to use. Instead, EVs use a battery and electric motor.
EVs quickly heat up because they use resistance heating rather than waste heat from a gasoline engine. While this does consume part of the battery life quicker, the EV can still manage the average Canadian's daily commute distance without any difficulties.
Tip: Similar to traditional vehicles, starting your car remotely to warm it up ahead of time makes it a comfortable temperature before getting in. If you have an EV, starting it while it is still plugged in will maintain your driving range.
Myth #3. Driving an EV in Alberta doesn't reduce GHG emissions
Alberta's electricity comes from a variety of sources including: coal, natural gas, solar, wind and hydroelectric. Even with our grid currently being powered largely by fossil fuels, switching to an EV still reduces GHG emissions intensity.
A study completed by the Simon Fraser University found that charging an EV on Alberta's electricity grid can reduce fleet-average GHG emissions intensity by 41%. As the grid increases the use of renewable energy systems, more emissions will be reduced over time.
Myth #4. Nobody is buying electric vehicles in Alberta
EV sales in Alberta grew 65% during the first three months of 2019 compared to 2018, exceeding the national average growth rate. Municipalities are taking advantage of the cost savings while being leaders in reducing GHG emissions.
Municipalities are purchasing more than electric passenger vehicles. They are also purchasing electric ice resurfacers for ice rinks, and electric side-by-sides for use in maintenance activities.
The City of Leduc is going one step further by taking advantage of their solar photovoltaic (PV) systems to charge their Chevy Volt. This means their vehicle is a fully net-zero emissions solutions. Funding for this vehicle was provided in part by the Electric Vehicles for Municipalities Program.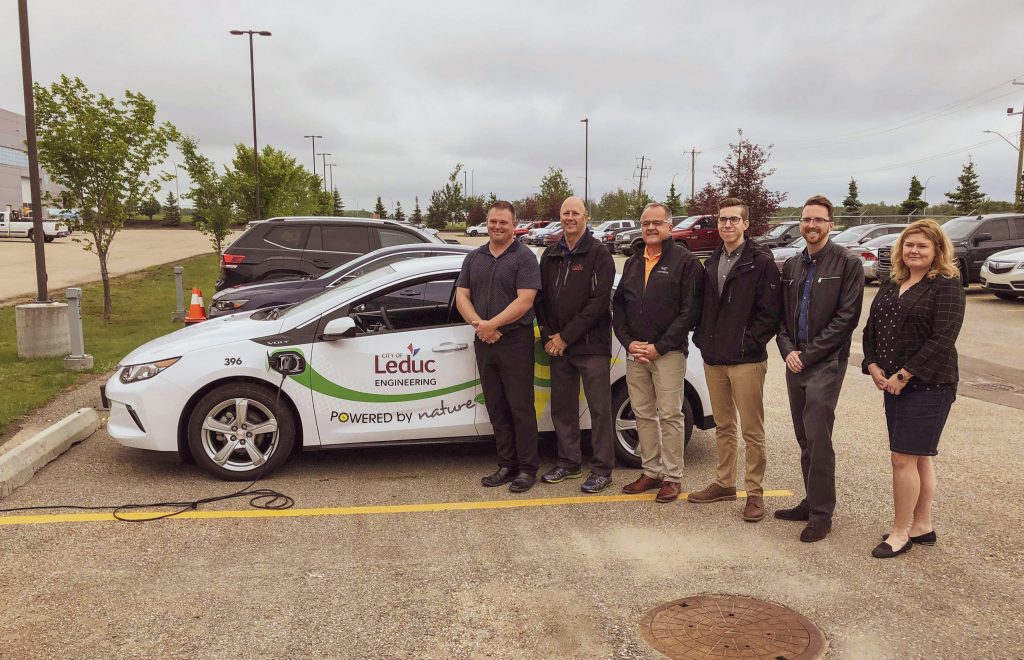 "The car is powered from our solar system on the roof of the operations building. We get about 80 kilometers on one charge, and we don't usually have to go farther than that."
– Mayor Bob Young, City of Leduc
Learn more about the City of Leduc, and other municipalities driving EVs in the Project Showcase.
Myth #5. There are no charging stations in Alberta
Alberta has established a very elaborate system of charging infrastructure across the province, that is growing each year. Use sites like ChargeHub and PlugShare to identify the charging station located nearest to you.
To increase charging capacity in southern Alberta, a joint initiative called the Peaks to Prairies network is installing 20 fast-charging stations. The network is expected to be completed by the end of 2019.
Contact the Action Centre to learn how your municipality can access funding for electric vehicles and register for the upcoming webinar.
Take advantage of electric vehicle technology
Apply for rebates with the Electric Vehicles for Municipalities Program