Myth Busting: Electric Vehicles in Alberta
As battery technology continuously improves, electric vehicles are rapidly changing. Commuters travel further, reduce maintenance costs, and lower their impact on the environment with an electric car. In 2019, we busted myths and misconceptions about electric vehicles in Alberta. Today, we are readdressing these concerns to finally put them to rest.
Myth #1. Electric vehicles cannot travel long distances.
As technology rapidly improves, electric vehicles travel farther distances, with some models travelling up to 500kms on one charge. Electric vehicle distance range varies for both plug-in hybrids and battery electric vehicles. With newer generations using batteries that achieve a higher range, range anxiety isn't an issue, even for drivers that commute long distances.
If you mostly travel short distances and occasionally take longer trips, plug-in hybrids may be the best option. They allow for shorter trips to be electric, up to almost 100kms, and longer trips to be a combination of electric and fuel-powered.
Did you know? There are two types of electric vehicles: battery electric and plug-in hybrids. Battery electric vehicles solely rely on electrical energy stored in the battery to power the vehicle. Whereas a plug-in hybrid uses a combination of electrical energy stored in the battery and fuel for propulsion. This allows the vehicle to switch back and forth from gas to electricity as needed.
In addition to fuel savings, there is also minimal maintenance involved, eliminating the need for costly repairs to your vehicle. There are tools available that allow consumers to compare the costs of traditional vehicles with electric vehicles. It's no wonder why nearly 70% of Canadians are planning to purchase a battery or plug-in EV as their next vehicle within the next five years.
Myth #2. Electric vehicles cannot handle the harsh Alberta winters.
With an electric vehicle, you don't have to stand outside in freezing temperatures to refuel. Instead, plug in your vehicle at home to charge it overnight. Another advantage is that battery electric vehicles do not use a gas engine to start, or any oil that may become too cold or thick to use in cold temperatures. They also heat up quickly utilizing electric resistance heating rather than waste heat from a gasoline engine.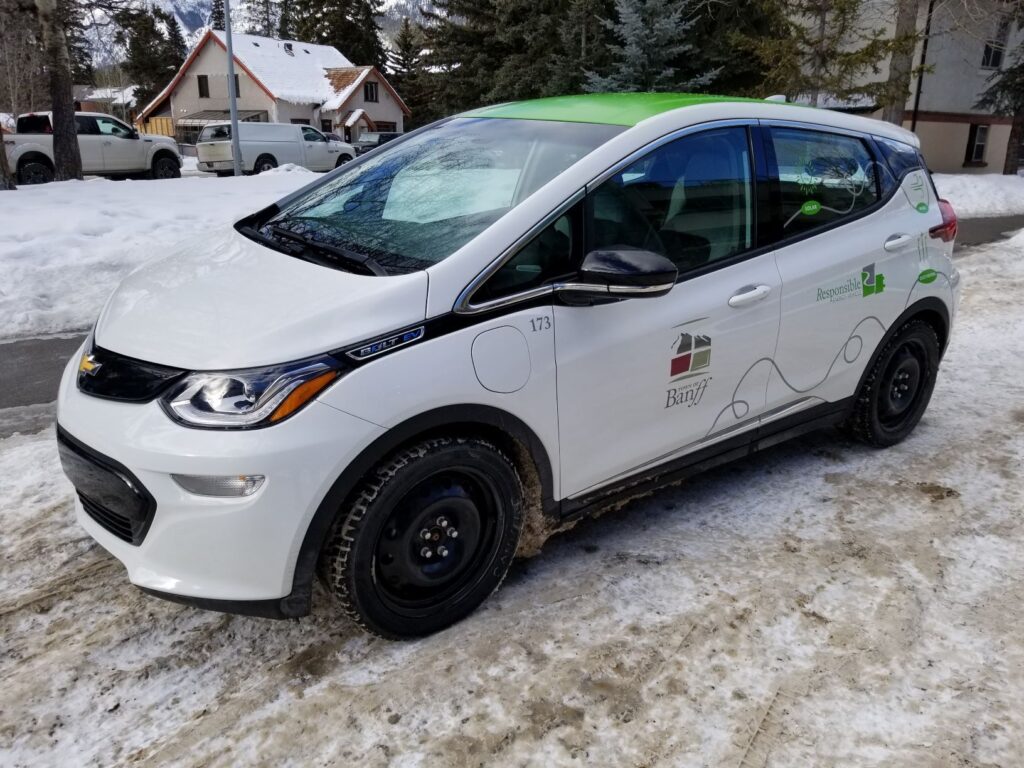 Just as traditional gas-powered vehicles use more gas to heat up in the winter compared to in the summer, heating up an electric vehicle in winter consumes more of the battery life. Fortunately, electric vehicles can still manage the average Canadian's daily commute distance without difficulty. Many electric vehicle drivers across the Prairies have had positive first-hand experiences driving in cold weather.
To get a sense of how cold weather can affect electric car driving, Geotab has created a Temperature Tool for EV Range to map out the impact temperature has on day-to-day electric car range following an analysis of 4,200 connected electric cars and 5.2 million trips. Cold-weather impacts on range are becoming even less of an issue as new electric car models have increased battery capacity; meaning there will be little impact on most daily trip needs.
Tip: Extend an electric car's operating range to achieve the maximum kilometers on a single charge. Keep your electric car stored in a garage (ideally heated), plugged in when not in use. Also, limit the use of the heater while driving, and using "eco-mode" to adjust performance parameters, thereby preserving battery usage.
Myth #3 Driving an electric car in Alberta does not reduce greenhouse gas emissions.
Despite having a fossil fuel dominant electricity grid, Alberta's electricity comes from a variety of sources including coal, natural gas, solar, wind and hydroelectric. Even with a grid powered largely by fossil fuels, electric vehicles produce less greenhouse gas (GHG) emissions than gas-powered cars overall.
A study completed by Simon Fraser University found that charging an electric vehicle on Alberta's electricity grid can reduce fleet average GHG emissions intensity by 41%. As the grid continues to include more renewable energy and low-carbon generation, the GHG emission reductions from driving an electric vehicle will only increase over time.
Furthermore, the lifecycle greenhouse gas emissions of electric vehicles, including manufacturing, driving use, and disposal, are also significantly lower than gas-powered cars.
BloombergNEF states that "electric vehicles have zero tailpipe emissions, but still have associated emissions from manufacturing and usage." When considering all emission sources, Bloomberg estimates that driving an electric vehicle 27,000kms, or about 1.5 years, will offset the manufacturing emissions. The following bar chart provides a comparison of the total emissions for the lifecycle of an electric car versus a gas-powered car. As you can see, electric vehicles produce less emissions overall.
Did you know? ICE is a commonly used acronym meaning internal combustion engine, which is what is used in a gas-powered vehicle, and BEV means battery electric vehicle.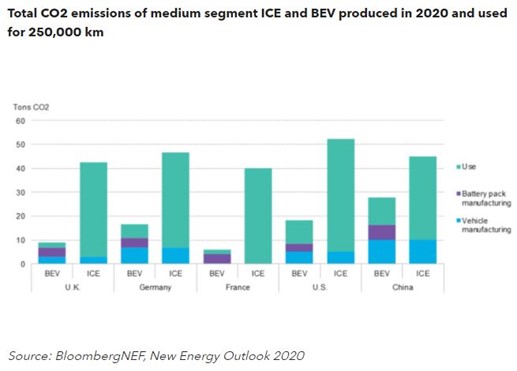 Myth #4 There are too few electric vehicle charging stations in Alberta.
Municipalities across Alberta are installing electric vehicle charging stations. Alberta has established an elaborate system with more than 200 stations located across the province; a number that continues to grow each year. To increase charging capacity further in southern Alberta, a joint initiative called Peaks to Prairies established a network of 20 fast charging stations.
Tip: When searching for "charging stations near me," use ChargeHub and PlugShare to identify the closest station.
Energy Futures Lab is exploring expanding the electric vehicle charging infrastructure into Northwest Alberta. They want to create a network of electric vehicle charging stations. Demand is growing due to the current shortage of available charging stations in the area.
This summer, the Action Centre is launching a new electric vehicle charging station incentive for Alberta's municipalities, the new Electric Vehicle Charging Program. The program will offset the cost of installing charging stations in public places, on-street locations, municipal workplaces, and for municipal vehicle fleets. The program is launching soon, but you can take the first-step, and submit an expression of interest today!
The Government of Canada is also investing in electric vehicle charging stations through the Zero Emission Vehicle Infrastructure Program. It is a five-year $280 million program focusing on making electric vehicle infrastructure in Alberta even more accessible. It allows municipalities across the province to fund public charging stations.
Myth #5. Electric vehicles will never replace internal combustion engine vehicles.
Electric vehicles are gaining traction worldwide and automotive companies are investing and releasing new electric vehicles. Ford, for instance, recently announced a $22 billion investment in electric vehicles. This plan is on par with the General Motors commitment to spending $27 billion to launch 30 electric vehicle models globally by 2025.
As manufacturers like Ford, GM, Tesla, Nissan, Chevrolet, and Kia invest more into electric technologies and increase manufacturing capacity, electric car prices will continue to fall. Some manufacturers such as GM are even committing to phase out the production of light-duty gas and diesel powered vehicles as early as 2035.
Manufacturers are not alone in this transition. Governments across North America and Europe are committing to phasing out new sales of gas and diesel vehicles as early as 2030. In Canada, the federal government is aiming for 100% of new sales to be zero emission vehicles by 2040.
Bonus! Myth #6. There are no electric vehicle funding options in Alberta.
Through the Municipal Climate Change Action Centre's Electric Vehicles for Municipalities Program, cities and towns are replacing gas-powered fleets with electric options. The program funds a variety of electric vehicle types, including:
Passenger battery electric and plug-in hybrid electric vehicles.
Low-speed, non-road battery electric and plug-in hybrid electric vehicles.
Medium and heavy-duty battery electric and plug-in hybrid electric vehicles.
A diversity of electric vehicles are being purchased by Alberta municipalities. For instance, the Town of Okotoks received funding for their new electric UTV. Now their enforcement team can get to bike lanes, forest trails and places that they could not reach before, keeping the community safe and lowering emissions.
Other municipalities are purchasing electric vehicles, too. For instance, the City of Medicine Hat purchased electric ice resurfacers for their ice rinks. Learn more about municipalities driving electric in the Project Showcase. Then, apply for funding through the Electric Vehicles for Municipalities Program.
Tip: Additional funding is available from the federal government through the Incentives for Zero-Emission Vehicles (iZEV) Program. Municipalities can access both funding sources to receive rebates of up to $19,000 per passenger vehicle.
Excited yet? You should be!
Take advantage of this new wave of electric vehicle technology with rebates for electric vehicles through the Electric Vehicles for Municipalities Program.
Author: Torrie Santucci, Project Coordinator, Energy Efficiency
Apply for electric vehicle funding
Express your interest in the Electric Vehicles for Municipalities Program