Let's Talk Adaptation with Ronak Patel
It's your chance to weigh in on the Government of Canada's forthcoming National Adaptation Strategy. Learn why it matters to Albertans with the Action Centre's Ronak Patel.
The National Adaptation Strategy is the Government of Canada's opportunity to establish a clear framework for action to achieve climate resilience. This spring and summer, all people across Canada are invited to weigh in on a discussion paper that was prepared based on conversations with experts, government officials, and Indigenous representatives. Using this feedback, Canada's National Adaptation Strategy will be finalized and released by the end of the year.
Ronak Patel, the Action Centre's program lead for capacity building shares his perspective on the importance of Alberta's municipalities engaging with climate adaptation.
---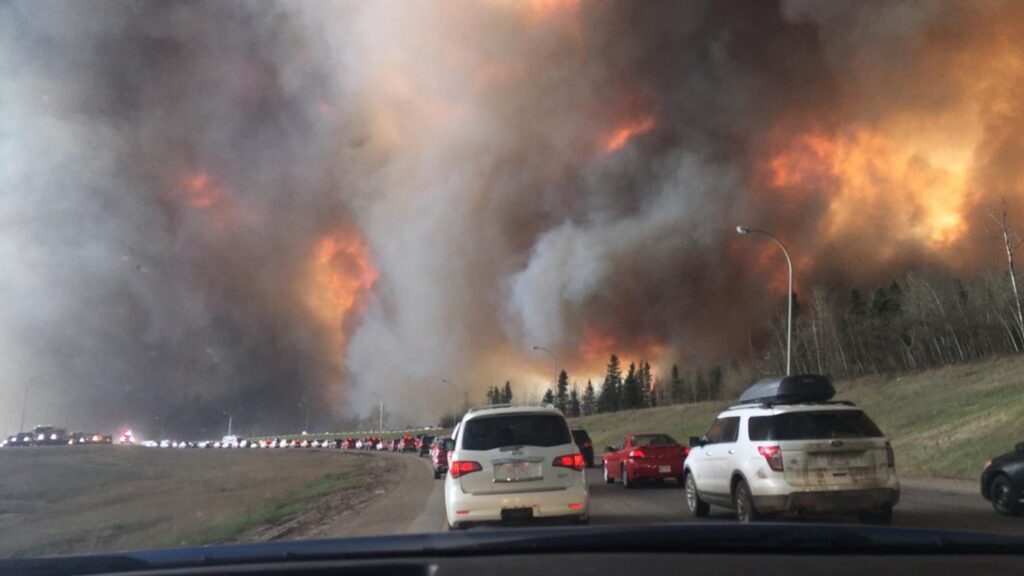 In recent years, a number of striking climate disasters hit Canada, from the heat dome and forest fires in B.C. to historic flooding in Ottawa and Montreal. If we look closer to home, how have Alberta communities been affected by climate change?
In the context of insured damage from severe weather events, 11 out of the 20 most costly Canadian events have happened in Alberta. There were the Southern Alberta floods in 2013 and the 2011 forest fire in Slave Lake and the 2016 wildfire in Fort McMurray was the costliest in Canadian history. For me, this is a clear reminder that climate change is increasing the frequency and intensity of natural disasters. We are experiencing warmer temperatures, wetter winters, shifting ecosystems. These chronic and acute changes will have a range of implications, some positive and some negative, and it will only get tougher if we don't adapt.
As the Municipal Climate Change Action Centre, why is it important to help municipalities focus on adaptation in particular?
If we're talking about how municipalities respond to climate disasters, I think shifting from being reactive to proactive is a better way forward. There will always be a need for disaster response, but if we can predict what impacts climate change will cause and plan accordingly, that's a better strategy—not just for damage control but for costs too.
Budgeting is crucial for municipalities and planning helps you prioritize. So, if you know that fire is going to be an issue, you can focus on fire prevention. Of course, you could staff your fire department to the nines and have tons of people available to respond to a fire. But a better solution, in terms of wisely spending dollars, would be to build fire smart communities and take preventative actions.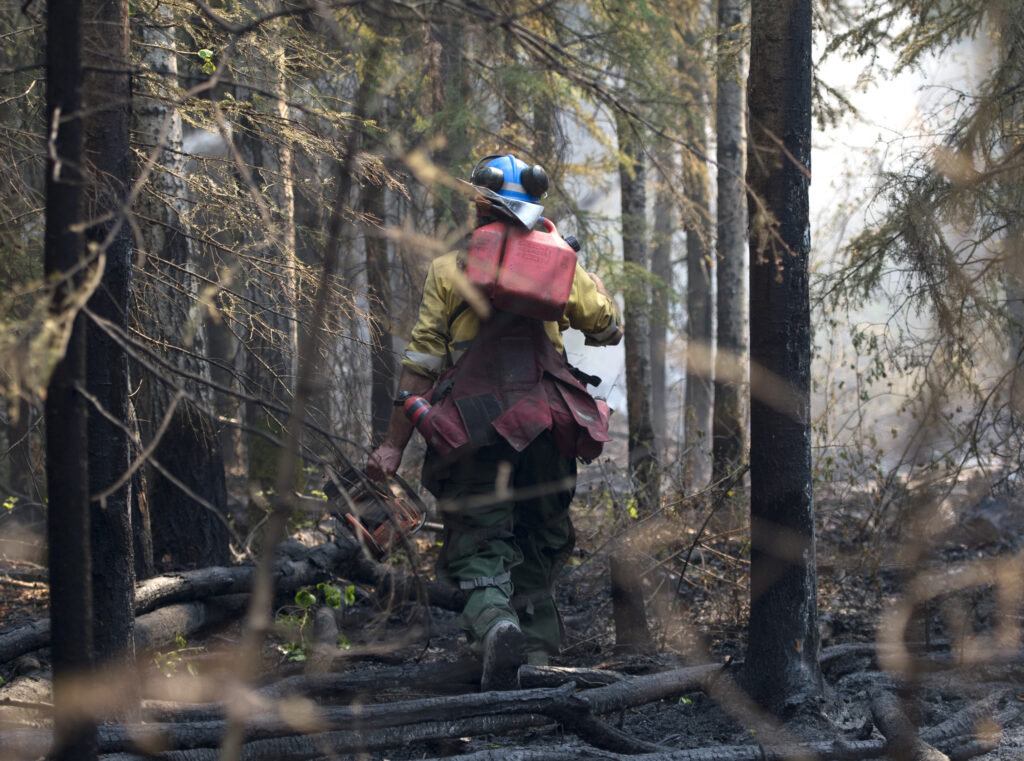 The discussion paper talks about how there are often co-benefits to adaptation—you're kind of pointing to some financial co-benefits here.
Yes, I think a core benefit of adaptation is clearly evident in the economic connection. But there's a wide range of co-benefits. Let's look at health and wellbeing, for instance. When we're talking about risks like wildfire smoke, that can be a huge impact on local quality of life. I've experienced recent summers when we've been trapped indoors because of low air quality due to nearby fires. So, if municipalities can address the risk of wildfire, either through prevention or disaster response, that's going to improve residents' quality of life too.
The National Adaptation Strategy seeks to unite groups across Canada with key roles to play in building climate resilience. How do you see municipalities playing a role?
I think local governments have two spheres where they can work on climate resiliency. One is their sphere of direct control—their operations, their buildings and owned assets—those can all be more resilient to the impacts of climate change. But then the bigger sphere, I would say, is that sphere of influence. With things like land-use planning, zoning, local bylaws, and leadership to promote hard and soft climate resilience actions, municipalities can make sure that resiliency is baked into the whole community, not only in their own assets, but also for residents and businesses.
What would you say municipalities can do that other levels of government cannot?
The local nature of municipalities, that's really important for understanding climate risk. We're always trying to look at two aspects of climate risk. One is, what is the likelihood of the risk happening? That mainly comes from the science of climate change. But then we also have to think about the consequences of climate change. And that knowledge about potential impacts can be a very local, a very grassroots understanding. You have to find those people with the local knowledge to really make sure the consequences of climates change are well defined.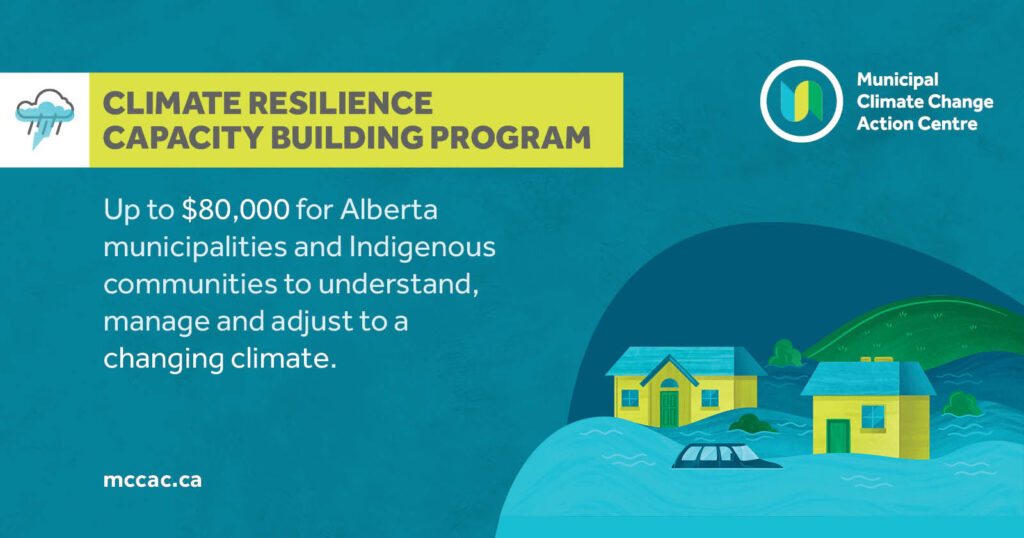 Reaching these people at the grassroots and harnessing that knowledge all takes funding. As a basis for successful climate adaptation, the discussion paper calls for sustained funding for capacity-building. As the Action Centre's program lead for capacity building, how are we supporting that call?
Earlier this year, we launched the Climate Resilience Capacity Building Program for Alberta municipalities and Indigenous communities. Capacity building is work that increases the knowledge, expertise, and skills that communities need to act on climate change. Capacity building strategies are unique to each individual community. Activities like training, staffing, bringing in external help can all help communities understand and prepare for the impacts of climate change. These types of activities are eligible for funding in the Climate Resilience Capacity Building Program.
We framed the program to be based on outcomes. So as long as your community project produces a planning document, for example, you're free to explore the right way of doing that. Communities can explore whether that's bringing in a contractor, hiring someone for a short-term position, training someone that you already have, or drawing on Traditional Ecological Knowledge within Indigenous communities—we're flexible in letting communities build capacity on what they already have.
---
The National Adaptation Strategy wants to hear your experiences with climate change impacts and your priorities for action. Your input will help to strengthen the National Adaptation Strategy and ensure that targets, milestones and actions reflect the priorities of people living in Canada.
The Climate Resilience Capacity Building Program offers funding for municipalities and Indigenous communities to better understand the impacts of climate change, learn how those impacts present in their locale, plan to reduce the negative impacts and leverage opportunities, and make progress on specific resiliency actions.