How greenhouse gas emissions are measured
3-minute read
Build your understanding of greenhouse gas emissions inventories, what to measure, and why it is important.
Measuring greenhouse gas emissions is a crucial component of sustainability policies and smart decision-making.
What is a greenhouse gas emissions inventory?
Across Alberta, municipalities are taking note of their carbon footprint by cataloguing and tracking emissions through a greenhouse gas (GHG) emissions inventory. A GHG emissions inventory is a list of the source of GHG emissions produced by a municipality.
This list details where emissions are coming from. The emissions are calculated based on a specific location and duration of time. For example, the electricity used to light your recreation facility can be a source of GHG emissions.
Greenhouse gases
Major greenhouse gases include carbon dioxide, water vapor, methane, nitrous oxide, and ozone. Too much of these greenhouse gases accelerate the greenhouse gas effect, which is warming our planet at an alarming rate.
The unit of measure used in a GHG inventory is tonnes of carbon dioxide equivalent (tCO2e). This value represents different greenhouse gases and, their varying global warming potentials converted into equivalent tonnes of carbon dioxide.
Carbon dioxide is often used to represent the vast majority of GHG emissions. Carbon dioxide emissions can be hard to visualize. Figure 1 demonstrates this at ground-level pressure and temperature, as one tonne of carbon dioxide would fill a sphere ten meters in diameter.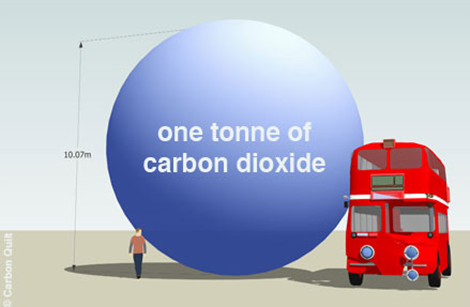 Figure 1. Source: Carbon Visuals
A typical GHG emissions inventory identifies:
what greenhouse gases are emitted;
where they are emitted;
when they are emitted;
why the emissions are created; and
how the emissions are quantified.
Corporate versus community inventory
It is best practice to set boundaries on your GHG emissions inventory. This allows for specific information to be tracked and analyzed. For municipalities, there are generally two accepted types of inventories: corporate and community.
Corporate
A corporate inventory outlines emission generated directly from municipal operations, buildings, and services. Municipalities have direct control and influence over these emissions. This inventory does not include emissions that are associated with sources not controlled or owned by the municipality.
Figure 2. Example of GHG emissions inventory for corporate emissions in 2016 measured in kilotonnes of carbon dioxide equivalent.
Community
A community inventory estimates the GHG emissions generated within a municipal boundary, including the residential, commercial and institutional, industrial, transportation, and solid waste sectors. Municipalities have indirect control over these emission sources.
Typically, the corporate emissions fall almost entirely within the community inventory, with a few exceptions.
Figure 3. Example of GHG emissions inventory for community emissions measured in kilotonnes of carbon dioxide equivalent.
Why is it important?
Inventories are important because they provide valuable information describing how much GHG emissions are produced by your building operations. An inventory helps you understand your environmental impact, and develop an emissions reduction plan.
Municipalities with a GHG emissions inventory can:
Build awareness of energy use.
Assess what sectors produce the most GHG emissions.
Evaluate where opportunities for energy efficiency and cost savings are.
Decide where to prioritize GHG emissions reduction efforts.
Create local economic development opportunities for new energy projects.
Consider the impacts of future growth on energy and emissions.
By completing a baseline GHG emissions inventory, municipalities have a reference point to track energy and emissions over time. Future inventories can be compared against this baseline to measure progress of emissions reduction strategies.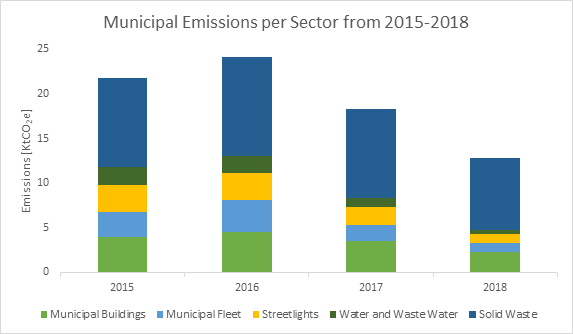 Figure 4. Example of GHG emission inventory data showing emissions categorized into sectors, and how emissions have changed over four years.
Get started
See real savings and real change for your municipality by joining over 400 municipalities across Canada participating in the Partners for Climate Protection Program.
The Partners for Climate Protection program, administered by ICLEI — Local Governments for Sustainability (ICLEI Canada) and the Federation of Canadian Municipalities (FCM), helps your municipality do its part.
This program supports a network of Canadian municipal governments committed to reducing greenhouse gas emissions, starting with the creation of a GHG emissions inventory.
After completing the inventory, the Municipal Climate Change Action Centre will provide you with free one-on-one support to help you set targets, develop a plan and implement it. We're here every step of the way.