How energy management works
3-minute read
Ever wonder how much energy your buildings use? Start managing energy to make your operations more efficient, find cost savings, and reduce your environmental impact.
Energy management is a strategic and continuous improvement approach that can be used across industries – the basics of it are the same. The core goal of any energy management strategy is to balance optimal operational performance while reducing energy costs and greenhouse gas emissions.
Energy management activities include: getting commitment from your leadership, developing an energy policy, assessing energy use, implementing energy efficient procedures, monitoring energy consumption, and more.
Natural Resources Canada (NRCan) recommends following these steps to develop an energy management strategy: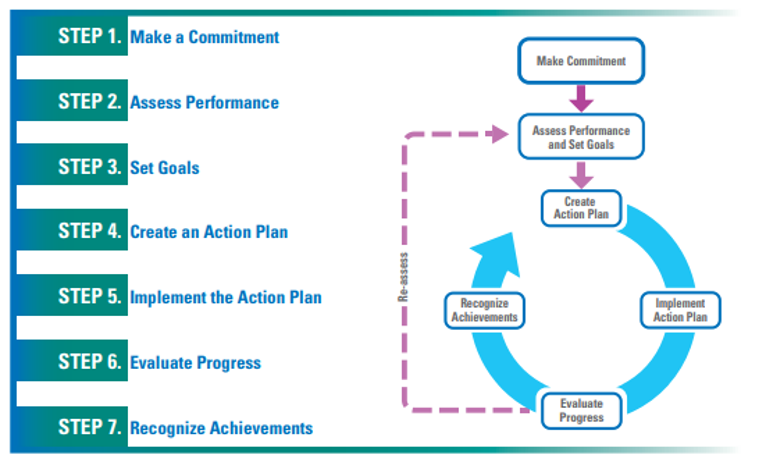 Energy management practices are scalable. They can be implemented across your municipality, on specific facilities, or even single energy systems. Typically, the focus of energy management is on buildings, but the focus can also include vehicle fleets, equipment, waste, water management, and more.
Municipalities, regardless of size, can apply energy management practices to help achieve operational, financial and environmental benefits.
Tip: Get started using the following energy management software. It will help you assess various energy efficient retrofits and the energy performance of buildings.
Operate buildings efficiently
Energy management can achieve various operational benefits, such as increased occupant comfort, workplace satisfaction, safety, and productivity from energy systems functioning correctly and efficiently.
The energy management planning process helps identify no-cost and low-cost opportunities such as corrections to temperature setpoints, occupancy timers, and lighting levels while continuing to ensure spaces are being lit, heated, and cooled appropriately.
Tip: Reduce your office's temperature when it is unoccupied.
Research shows that proper workspace lighting contributes to an increase in employee engagement, well-being, and productivity. Other studies suggest that comfortable indoor temperatures are crucial to maintaining a high performing workplace.
See cost savings
Energy consumption can represent a large portion of operating costs for municipalities and managing energy consumption helps reduce energy use and lower operating costs.
The Clean Energy Ministerial states organizations that adopt the International Organization for Standardization's 50001 Energy Management System standard (similar to the steps shared by NRCan above) can achieve up to 10% or higher in net cost savings, with low-cost or no cost activities.
Cost savings can be achieved by:
promoting an energy-saving culture through energy use awareness initiatives and behavioural controls,
implementing temperate setbacks during unoccupied times such as at night,
performing regular routine maintenance, and,
switching to energy efficient equipment (i.e. smart thermostats, occupancy sensors for lighting, pipe insulation, low flow faucets, or heat recovery systems).
Your municipality can invest the savings from reduced energy costs in other priority initiatives, or reinvest the savings in other energy and emission saving projects.
Improve your environmental impact
Energy management enables municipalities to show environmental leadership and make progress towards their climate change-related goals by reducing energy use and greenhouse gas emissions. Reducing emissions improves local air quality, creates healthy living spaces, and provides a high quality of life for citizens.
According to the United Nations, urban areas consume 78% of the world's energy and produce more than 60% of global greenhouse gas emissions. This shows there is significant potential for municipalities to play a crucial role in greenhouse gas emission reduction.
Greenhouse gas emission inventories are a component of energy management systems. They help municipalities quantify the impact of their operations towards climate change while providing a starting point to track emission reductions.
Tip: Read our blog post about greenhouse gas emission inventories to learn more.
Not sure where to start? The Action Centre is here to help.
The Municipal Energy Manager Program funds the salary of an energy manager that will help your municipality start managing energy use, or get advice about energy management with the Action Centre's advisory services.
Start managing your energy use
Get funding to hire a Municipal Energy Manager for your municipality