This program is not accepting applications at this time.
The Municipal Energy Champions Program helps small municipalities choose staff members to become energy champions that will manage municipal energy use. Champions identify opportunities to reduce energy consumption and save money.
Participating in this program helps Alberta municipalities:
understand energy use and management,
better track municipal energy consumption,
move forward in the energy planning process,
learn how to identify energy efficiency and renewable energy projects,
see financing options to offset the costs of energy projects,
develop an approach for energy management initiatives.
How it works
Municipal Energy Champions commit approximately 10 to 15 hours a month, for nine months, to complete the program steps, through webinars, workshops, phone calls, networking events, and more.
The program steps include:
Baseline assessment.
Energy management basics learning activity.
Municipal energy information collection.
Develop an energy profile and trend analysis.
Understand energy consumption in buildings.
Presentation on findings.
Implementation planning and continuing success learning activity.
Read more about the overall process in the Municipal Energy Champions Guidebook.
I highly recommend all municipalities take part in the Municipal Energy Champions Program. It does not matter what stage your municipality is in when it comes to energy management. The Municipal Energy Champions Program will be able to support and provide guidance on how to be better. There are always new ways of doing things and better, more efficient programs. Having the Action Centre provide timely, engaging offerings is great for municipalities of all sizes and at all stages of energy improvement.

Sandra McIntosh, Economic Development Officer, Brazeau County
Participants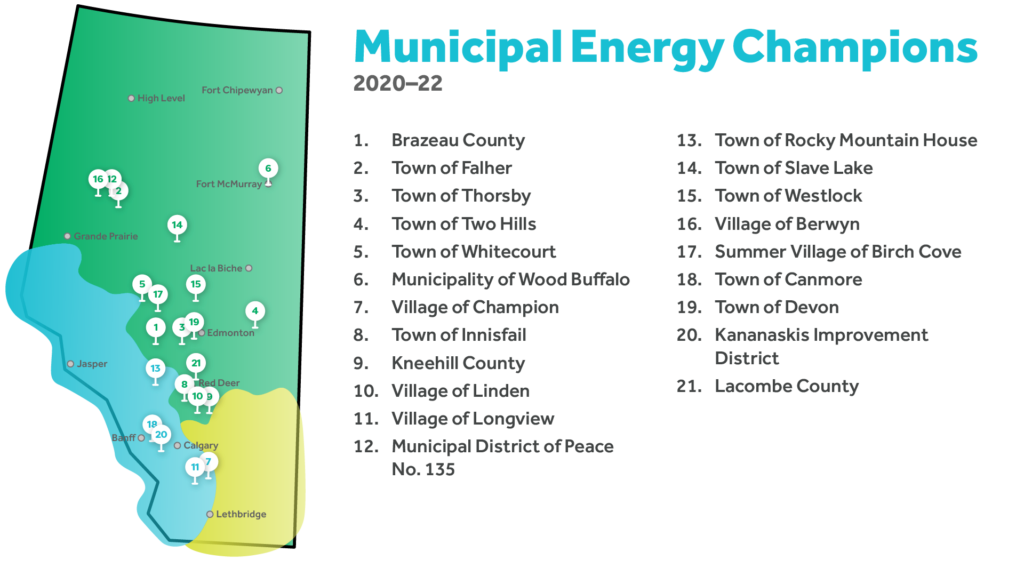 2020 Cohort
Six municipalities were selected in 2020 to pilot the program:
Brazeau County
Town of Falher
Town of Thorsby
Town of Two Hills
Town of Whitecourt
Municipality of Wood Buffalo
Learn more about the pilot program in our project showcase – https://mccac.ca/project-showcase/municipal-energy-champions-pilot-program/
2021 Cohort
Building on the pilot's success, the program was offered to a second cohort of nine municipalities:
Village of Champion
Town of Innisfail
Kneehill County
Village of Linden
Village of Longview
Municipal District of Peace No. 135
Town of Rocky Mountain House
Town of Slave Lake
Town of Westlock
2022 Cohort
In 2022, the program returned for a third cohort to support 6 new municipalities:
Village of Berwyn
Summer Village of Birch Cove
Town of Canmore
Town of Devon
Kananaskis Improvement District
Lacombe County
Tip: Read our blog post about how energy management works.
Real Savings. Real Change.