How to enhance energy efficiency in arenas and ice rinks
4-minute read
Arenas and ice rinks are at the heart of Canadian communities, both large and small. They are also among the highest energy-consuming facilities in a municipality. Learn how improving energy efficiency in arenas will reduce your energy costs and greenhouse gas emissions.
An arena's day-to-day operations are expensive to maintain and emit significant amounts of greenhouse gases (GHGs). Thankfully, there are many steps you can take to boost an arena's energy efficiency which will reduce the costs of operation. Identifying the steps starts with a scoping audit or engineering study.
These activities provide customized information including: description of a building's energy use, project feasibility analyses, and consumption data for energy conservation measures that may benefit your facility.
By completing an audit or study, building operators have the information needed to prioritize effective opportunities to reduce energy costs and emissions in your arena. An audit is recommended when the arena operators are contemplating retrofits and require assistance identifying which measures will yield the greatest energy and cost savings.
Engineering studies are more comprehensive investment-grade reports which analyze the feasibility of large capital energy efficiency projects. There is no "one size fits all" strategy for an arena, so a customized retrofit guided by an energy auditor's help is always advised.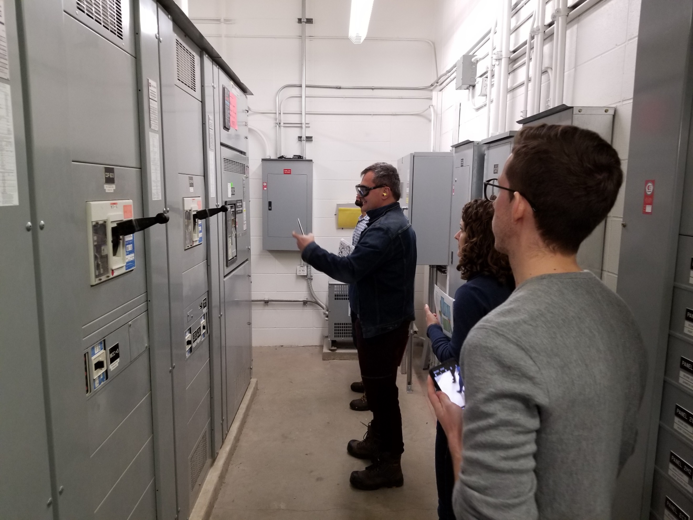 Tip: Scoping audits and engineering studies are funded up to 100% of their costs through the Recreation Energy Conservation Program. Submit an Expression of Interest to get started.
Energy efficiency gains can be achieved through no or low-cost changes including: adjustments in building operation, changes to occupant behaviour, modifications to the building schedule, and capital cost retrofits. Examples of several low cost and capital cost opportunities for arenas include:
Turning off the lights when not in use (especially after hours) or when natural daylight is sufficient.
Using sleep mode on computers rather than leaving monitors on 24/7 to reduce needless energy consumption.
Introducing daytime cleaning during occupied building hours to reduce the length of time lighting is operational since cleaning will take place at the same time occupants are in the building.
Performing regular maintenance of lightbulbs, HVAC filters, and refrigeration systems.
Creating an awareness campaign to help promote an energy efficiency culture in your community and office.
Tip: Natural Resources Canada offers resources for energy efficiency awareness campaigns.
Replacing worn out seals and sweeps on the exterior doors are an easy win to reduce heat loss.
Did you know: A single door can typically provide between 12 L/s and 2 L/s of air leakage depending on the performance of the seal. Door seals and sweeps can last from 5-10 years depending on use and should be replaced as needed. Installed costs for seal replacement are estimated at $30/meter, while sweeps are estimated at $50/meter.
Replacing all non-LED lamps with LED lighting. LEDs have reduced wattages compared to traditional lighting fixtures and consume less electricity, producing huge savings over time.
Tip: Use the Recreation Energy Conservation Program Lighting Calculator to estimate savings, and to apply to the Recreation Energy Conservation Program without the need for a Scoping Audit or Engineering Study.
Installing a flood water de-aerating system enabling ice surfaces to be built and resurfaced with lower temperature water. These systems reduce the amount of energy used by boilers and ice plant equipment.
Pursuing cogeneration systems. Also known as combined heat and power (CHP), cogeneration systems merge the production of usable heat and electricity into a single process that can substantially reduce carbon emissions and energy costs (see Figure 2). These systems integrate an internal combustion engine, an electricity generator, and heat recovery to generate electricity and supplement heating demand. This method captures heat that would be otherwise wasted and uses it to heat a building or provide hot water.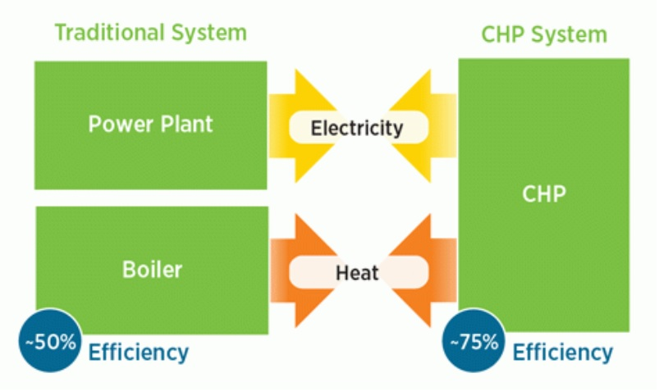 According to U.S. Department of Energy, "it is reasonable to expect CHP applications to operate at 65-75% efficiency, a large improvement over the national average of approximately 50% for these services when separately provided."
Access funding for energy efficiency projects
Some retrofit projects can be expensive to implement. Fortunately, Alberta's municipalities can access several sources of funding.
The Action Centre's Recreation Energy Conservation (REC) Program provides funding for municipalities to reduce energy use and GHG emissions in their recreation facilities. Municipalities are eligible to reserve funding to cover 75% of the costs of energy efficient retrofits and measures.
Many energy saving measures can be retrofitted without completing an audit or study. See the Action Centre's project showcase to learn more about completed REC projects, including Bon Accord's Lighting Retrofit. It is saving their municipality over $9,000 each year.

The Federation of Canadian Municipalities also offers project funding through the Green Municipal Fund. Capital projects in municipal facilities that improve energy efficiency by at least 30% are eligible.
For more information about other available funding opportunities, see our Alberta Funding Guide.