Energy efficiency on a tight budget
4-minute read
High energy consumption across several municipal facilities adds up to expensive utility bills. Learn how Adeniyi Adeaga, Municipal Energy Manager, Foothills County is managing energy use and finding ways to reduce operational costs on a tight budget.
---
Municipalities can create more resilient communities for their residents with energy efficiency initiatives, but they usually have limited staff and money available to complete these projects. Without a dedicated staff member that understands how no-cost and low-cost energy efficiency projects work, municipalities have a hard time starting energy projects that could result in big savings.
The Action Centre's Municipal Energy Manager Program addresses this challenge by providing funding to help municipalities hire an internal energy manager to target high energy-consuming facilities, reduce their energy consumption, and find savings.

An energy manager is tasked with developing an energy management plan, finding energy-saving opportunities within municipal facilities, and leading energy and greenhouse gas reducing projects. Since every municipality has different needs and priorities, it is up to the energy manager to consult with staff and decide what projects to focus on.

The Action Centre recently spoke with Adeniyi Adeaga, the Municipal Energy Manager for Foothills County, who has been helping Foothills County save energy since January 2020.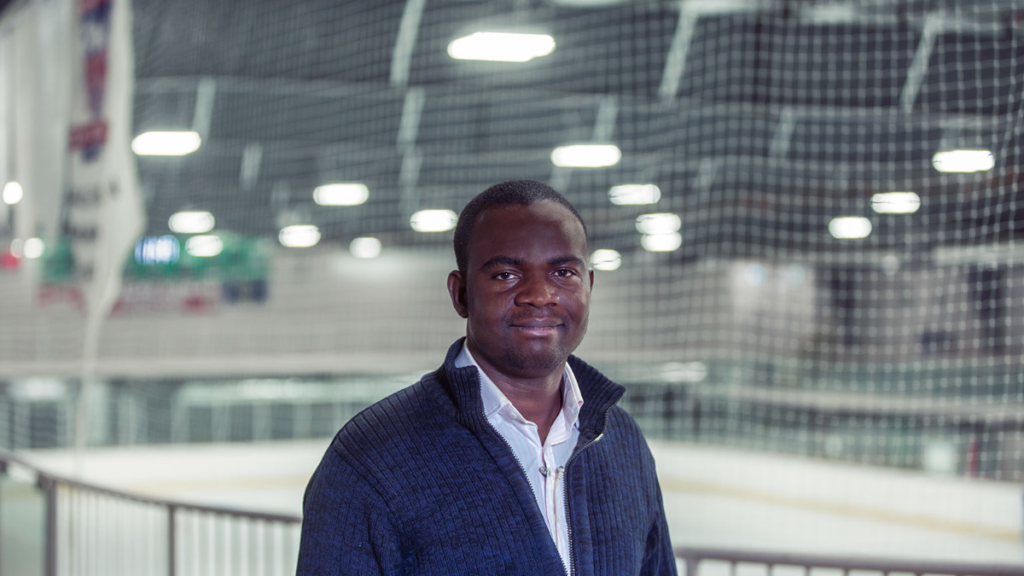 Here is what Adeniyi told us:

Why did your municipality choose to hire a Municipal Energy Manager?
"Foothills County decided to hire a Municipal Energy Manager as the knowledgeable professional to lead and drive the County's climate change mitigation and greenhouse gas reduction efforts, with the added benefits of operational cost savings and energy efficiency."
What is your role and focus area?
"My role as the energy manager involves leading the County's emissions reduction goals through the deliverables of the Municipal Energy Manager Program. Most of my time is spent on conducting energy audits and energy scans of the County's facilities, including recreation centres, administration building, workshops, fire halls, water plants, and more.

I also write energy audit reports with the goal of identifying how to reduce the County's energy consumption and costs. I engage in utility consumption analysis, soliciting quotes for measure implementation, liaising with the Action Centre and its contractors, and reporting to the County's governing officials."
What tools and resources helped you focus your energy management efforts?
"I first ranked each facility by highest energy consumption using the available utility data. I was then able to determine the end-use energy breakdown by auditing all facilities in scope. These were the most important resources that have helped me determine where to focus my energy management efforts to achieve the most significant results."
What types of low-cost/no-cost measures have been implemented to date?
"During my first week as an energy manager at Foothills County, I prioritized the low-cost/no-cost measures because changing behaviours around energy use can account for half of the sustained energy efficiency. During site visits, I educated facility managers about the relevant low-cost/no-cost measures that may be implemented in their facilities.

Reporting these quick wins to governing officials also helps them appreciate the work of the energy manager and could ultimately influence their decision to support large capital-intensive projects. Some of the low-cost/no-cost measures that have been identified or implemented includes:
Re-programming the dehumidifier to cycle on or off based on a humidistat set-point instead of 24/7 throughout the hockey season.
Unplugging the walk-in fridge and freezer and moving the remaining items into smaller appliances during low energy usage periods (March to October) in the recreation centre.
Draining out, flushing, and shutting off domestic hot water tanks in the Zamboni room at the end of a hockey season.
Setting back the ice plant ammonia refrigerant temperature by 1-2°F throughout the hockey season.
Reviewing all thermostat settings, using temperature setbacks, and re-programming them periodically to match the usage and occupancy schedule in multiple facilities.
Performing an off-season equipment shut down for the dehumidifier, plant room exhaust fans, and the Zamboni room exhaust fans.
Replacing outdoor lighting photocell sensor in the main fire station.
Ensuring that sufficient weather stripping is in place for all exterior doors in multiple facilities.
Reducing the daytime number of lights in the public works shop from 14 to 10 maximum.
Insulating the domestic hot water tank and hot water pipes in multiple facilities
Replacing the furnace filter as the current one was dirty."
Tip: Dirty filters can increase pressure drop across the filter, which increases the furnace's electricity consumption.
What differences have you noticed in the performance, maintenance, and costs associated with the upkeep of facilities since you implemented these low-cost / no-cost measures?
"As expected, the implemented low-cost/no-cost projects have resulted in noticeable energy savings and are getting us closer to hitting the greenhouse gas reduction target set by the County for the year.

However, there were some complexities introduced by shutting down some of our facilities due to COVID-19. This requires extra analytical effort on my part to quantify the real savings from the measures implemented to date."
What are you most proud of during your time as a Municipal Energy Manager?
"I am proud that I have been able to educate facility managers and other staff about energy efficiency and its benefits. Facility managers now have better insight of what to do, what to look for, and what to change in their behaviours to save energy, greenhouse gas emissions, and utility dollars."
Would you recommend that other municipalities hire their own Municipal Energy Manager?
"I recommend that other municipalities learn from Foothills County and hire a knowledgeable and professional energy manager to lead and drive their greenhouse gas reduction and climate change mitigation efforts.

The funding provided by the Action Centre for the Municipal Energy Manager Program covers a large portion of the energy manager's salary and serves as a huge advantage to municipalities that currently do not have a dedicated energy manager.

Municipalities without a dedicated energy manager will not know the impact of having a dedicated staff member until they hire one."
Thank you to Adeniyi Adeaga for sharing your knowledge and experience as a Municipal Energy Manager.
The Municipal Energy Manager Program funds 80% of the salary of an energy manager for up to two years. They will help your municipality start managing energy use and find cost savings just like Adeniyi did for Foothills County.
If your municipality can't participate in the program yet, get help with energy management through the Action Centre's advisory services.
Author: Torrie Santucci, Project Coordinator, Energy Efficiency
Start saving now by hiring a Municipal Energy Manager!
Submit an Expression of Interest