Renew your recreation centre with energy efficiency
Maintaining recreation centres can be expensive. Save money by upgrading to energy-efficient lighting, boilers, pumps and more.
Facility managers know their recreation centres inside and out. They also know buildings can run more efficiently with a few simple upgrades.
The Recreation Energy Conservation Program offers a path for simplified measures – projects that may proceed directly to an implementation project without a scoping audit or engineering study due to the predictability of the energy savings achieved by these types of upgrades.
Tip: The term "energy conservation measures" is commonly used to describe energy-efficient upgrades.
Simplified energy conservation measures include:
Pump replacements (below 20 horsepower)
Pump variable frequency drives (below 50 horsepower)
Space heating boilers, furnaces and units heaters (below 2.5 million BTUH)
Smart thermostats
Rooftop unit replacements
Ice rink flood water (de-aerators)
Lighting and lighting controls retrofits
More projects equal more savings
The Town of Bow Island is enjoying the savings from multiple energy-efficiency upgrades at Servus Community Arena including: a flood water de-aerating system, over 100 new LED lights, tankless hot water heaters, and door sweeps and seals.
Energy-saving flood water de-aerating systems (or brand-specific REALice systems) for ice rinks are popular because they create a controlled and structured vortex to remove gases and other particulates, such as limescale, as water flows through the device.
De-aerated, treated water eliminates the need for heated water when building or resurfacing your ice, and reduces compressor loads. De-aerating systems have no moving parts and are easily integrated into existing piping systems. This saves natural gas, electricity, and general wear and tear, while producing a better sheet of dense and fast ice.
"The REALice water treatment system for ice arenas eliminates the need for hot water when building and resurfacing the ice. We were pleased with the installation of our ice using our REALice system and look forward to the energy efficiency savings for years to come. Having better sweeps & seals on the barn doors will also help in the long run."

Gordon Reynolds, Mayor, Town of Bow Island
"The Town is very appreciative of the support received from the Municipal Climate Change Action Centre and Fortis."

Dave Matz, Chief Administrative Officer, Town of Bow Island
The Town's energy efficiency upgrades are expected to reduce greenhouse gases by 28 tonnes per year. Annual natural gas consumption for ice resurfacing will be reduced by 87 per cent, and electricity consumption from lighting will be reduced by 47 per cent. The payback is expected to be as little as 1.8 years after receiving funding from the Action Centre's Recreation Energy Conservation program and FortisAlberta.
Lighting and lighting controls
Many facilities use older fluorescent and metal halide lighting technology which consumes much more energy than LEDs. Upgrading lighting using light-emitting diodes (LEDs) is one of the most common energy efficiency retrofits Alberta municipalities are completing in recreation centres.
Lighting Calculator
Use the Lighting Calculator to discover the potential savings and rebates you could receive on consultation with a local electrical contractor. Use the calculator to estimate these savings without the need for a scoping audit or engineering study. When you apply for a lighting project, please submit a copy of the Lighting Calculator showing your energy and emissions savings calculations and photos of existing lighting equipment.
The Village of Edgerton recently completed a lighting retrofit at their local ice rink using the Lighting Calculator. The Village will start saving $1,740 each year after the project's two-year pay pack period.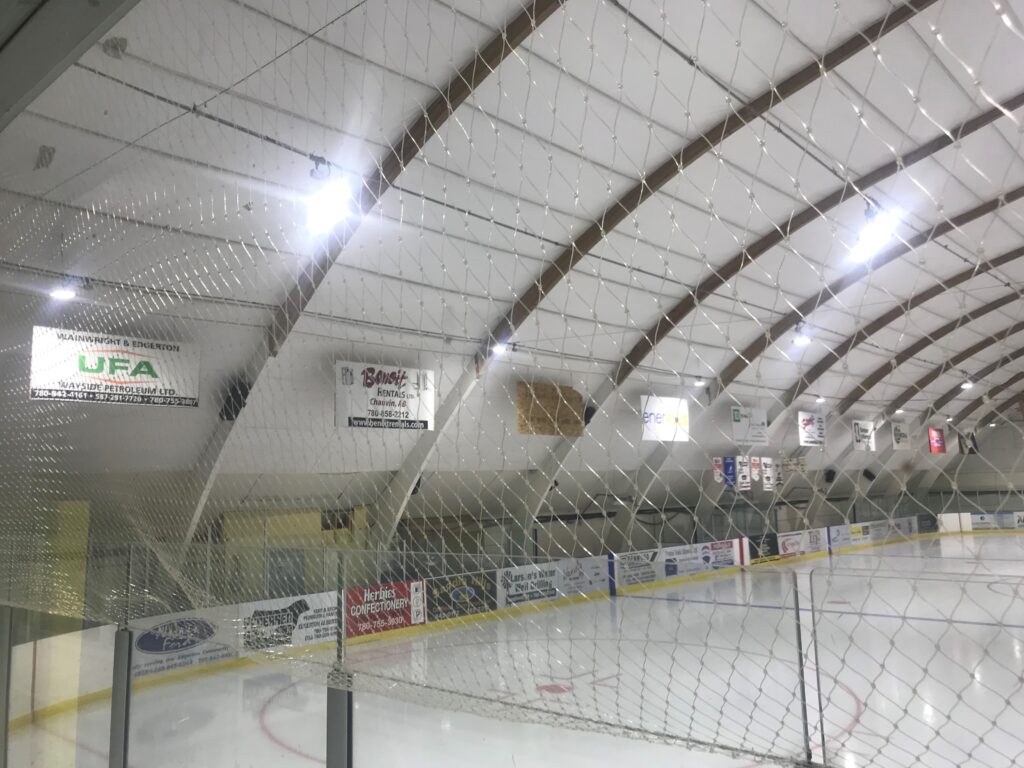 Here is what Kaylan White, Mayor of the Village of Edgerton says about completing a light retrofit with funding from the program:
"The Village of Edgerton prides itself on finding new ways to increase efficiencies and partnering with the Municipal Climate Change Action Centre to upgrade the Edgerton Arena's lighting to LEDs is a great example of that initiative. LEDs create a brighter environment and reduce the yearly facility costs, which keeps fees low and puts more money back into our Arena for other projects."

Kaylan White, Mayor, Village of Edgerton
Upgrade now
The Recreation Energy Conservation Program funds eligible projects up to 75% of equipment and installation costs. Apply now to access up to $750,000 for your equipment upgrades.
Tip: Municipalities located in FortisAlberta service area may apply for Save Energy grants that range from $1,000 – $5,000. These grants can be stacked with funding from the Recreation Energy Conservation Program.
Author: Calvin Lechelt, Program Lead, Energy Efficiency
Already know what you want to upgrade?
Apply now to install simplified measures in your municipality's recreation centre.