Three reasons solar electricity is right for Alberta schools
This was published in a different form in Feb. 2020.
In 2017, Cochrane High School students began visiting local businesses, fundraising for a new solar panel installation they wanted to build on top of their school's gym. Eighteen months and $100,000 later (including $50,000 from the Solar for Schools Program), the 50 kW solar electricity system was up and running.
Students in the Cochrane High School Sustainable Development Committee led all aspects of the project, from the initial idea, to fundraising, project management, liaising with solar contractors, and presenting to Town Council and the school superintendent.
This project gave the students a hands-on learning opportunity with lasting impact. As one parent explained, the solar project allowed students to "learn to plan, research ideas, understand community impact, gain financial skills, collaborate with community groups, problem solve and speak confidently in public."
The installation continues to give new students opportunities to learn, as teachers in Biology 20 and Science 30 are using the panels to focus lessons on electrochemistry and technology. A new generation of students is gaining environmental and energy literacy skills to succeed in a world that is shifting towards renewable energy.
Cochrane High School is not alone in bringing solar electricity to Alberta schools. Many school authorities are tapping into Alberta's solar advantage to reduce utility costs and greenhouse gas emissions, while also teaching students about renewable energy.
Here are three reasons why solar electricity is right for your school too.
1. STEAM learning for students
STEAM Education is an approach that uses science, technology, engineering and mathematics combined with the arts (humanities, creative arts, design) as access points for guiding student inquiry and critical thinking. This fosters the kind of collaborative, cross-disciplinary thinking that we need to succeed in today's rapidly changing world.
Cochrane High School shows how students can gain this kind of experiential learning from planning a solar panel installation. Afterward, the renewable energy project on site can be incorporated into many different curriculum areas including: physics, chemistry, math, biology, economics, safety, and risk management.
2. Reduced electricity costs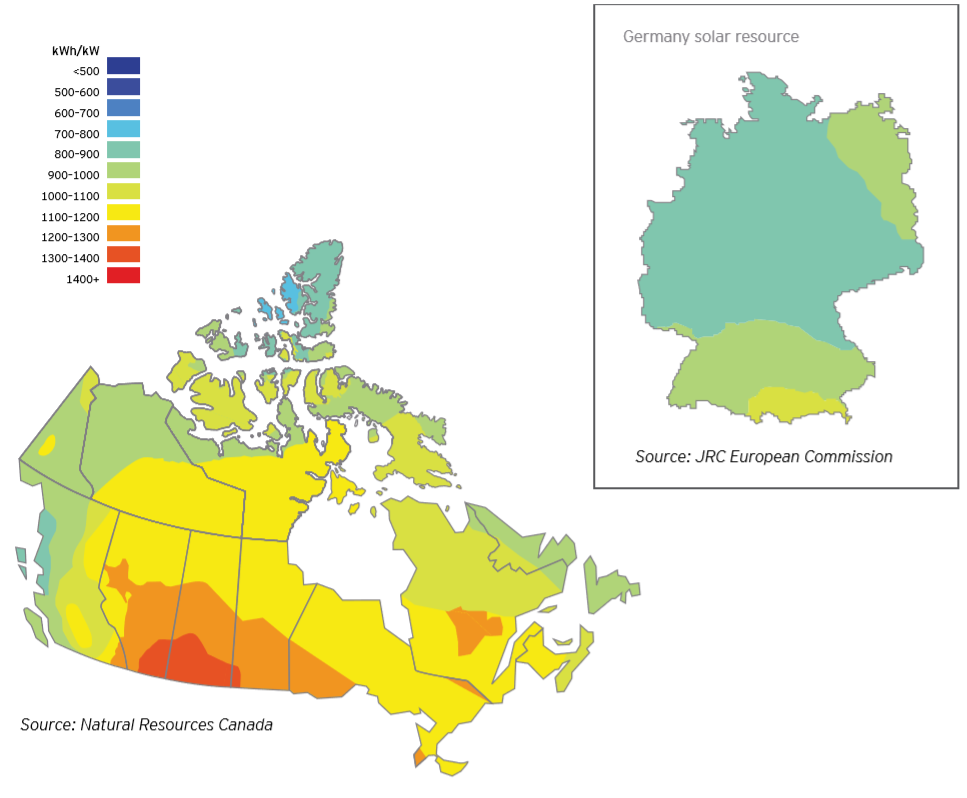 Solar PV (photovoltaic) systems have little to no annual maintenance costs and their expected lifetime exceeds 25 years. This means that by including a solar PV project in budget planning, schools are guaranteed long-term annual savings, freeing up money for other priorities.
Alberta has some of the best access to solar energy in Canada, significantly more than other world leaders in solar energy solutions such as Germany. Solar electricity generation creates a buffer against future utility rate increases and the ongoing decrease in price of installing solar PV makes it more and more affordable.
For example, a 100 kW solar panel system installed on a school in Alberta could potentially reduce annual electricity costs by $9,600. At a cost of approximately $165,000, this system would be eligible for a $82,500 rebate from the Solar for Schools Program and could expect a simple payback period of less than 10 years!
The Solar For Schools Program provides rebates on a $/W installed basis that covers up to 50% of the total costs of solar PV systems installed on charter, public, separate, and francophone schools in Alberta (check your eligibility).
3. Lowered greenhouse gas emissions
Generating renewable electricity will reduce greenhouse gas emissions, given Alberta's emissions-intensive electricity grid. The electricity generated by the example outlined above would offset electricity generated by conventional sources, reducing the school's annual emissions by 57 tonnes CO2e. This is the same as taking 16 internal combustion engine (ICE) cars off the road every year the system operates.
Our youth will experience some of the greatest impacts of climate change in their lifetimes, but only nine per cent believe the world will act quickly enough to address this issue. The Solar for Schools Program is a great opportunity to show your students that your school is committed to their futures.
Want to take action for your school?
Get started on an application for the Solar for Schools Program
Further Reading
Check out these resources for more on the links between education and renewable energy.