Connecting to Alberta's grid with community generation
4-minute read
Find out the differences between micro, small scale, and community generation and how they connect to Alberta's electricity grid.
Alberta's Electricity Grid
Alberta's electricity has traditionally been produced at large facilities connected to the grid's high-voltage transmission lines. These large generators have included coal and natural gas fired power plants, utility-scale wind farms, and utility-scale solar photovoltaic (PV) farms.
This centralized approach has reliably produced electricity for Albertans over the years. With changes to technology and prices, energy is also being produced by small scale generation and micro-generation facilities, as shown in Figure 1.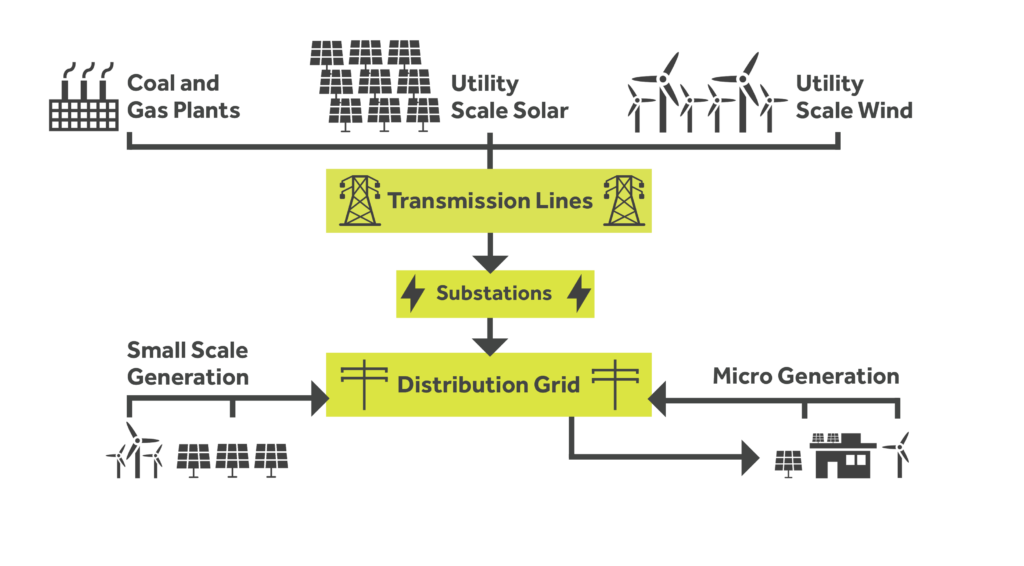 While utility-scale generators feed electricity directly into transmission lines, small scale generators feed directly into the distribution grid. Micro-generators, on the other hand, first supply electricity for on-site use, before feeding any excess energy to the distribution grid.
Both micro-generation and small scale generation projects are beneficial to Albertans because they:
create local jobs,
diversify the local economy and energy sources,
save or generate money for project owners, and
reduce greenhouse gas emissions.
Micro-generation
Micro-generators are:
electricity producers that use renewable or alternative energy sources,
connected 'behind the meter' to produce electricity that offsets on-site electrical consumption (self-supply), and
sized to produce the same amount or less electricity than what is used at that site over a year.
Alberta's Micro-generation Regulation allows renewable energy systems to be connected to the grid for on-site electricity generation. Homeowners, businesses, municipalities, and others are becoming micro-generators, and realizing financial and environmental benefits by producing their own renewable electricity.
Tip: Access funding to be a micro-generator through the Action Centre's Alberta Municipal Solar Program and Solar For Schools Program.
Small Scale Generation
As the price of renewable energy has fallen, and the benefits of distributed renewable electricity production have become clear, more Albertans want to earn revenue by producing electricity, as full or partial owners of renewable energy generation projects.
Small scale generators are:
connected to the distribution grid, and cannot connect 'behind the meter' or on-site,
limited in size only by how much electricity the local distribution grid is able to accept (typically less than 25 MW).
Alberta's Small Scale Generation Regulation allows smaller renewable or alternative electricity generators to connect directly to the distribution grid and sell all of the electricity they produce.
To help reduce the complication and cost associated with being part of the electricity market, the regulation establishes the Balancing Pool as the default market participant for small scale generators.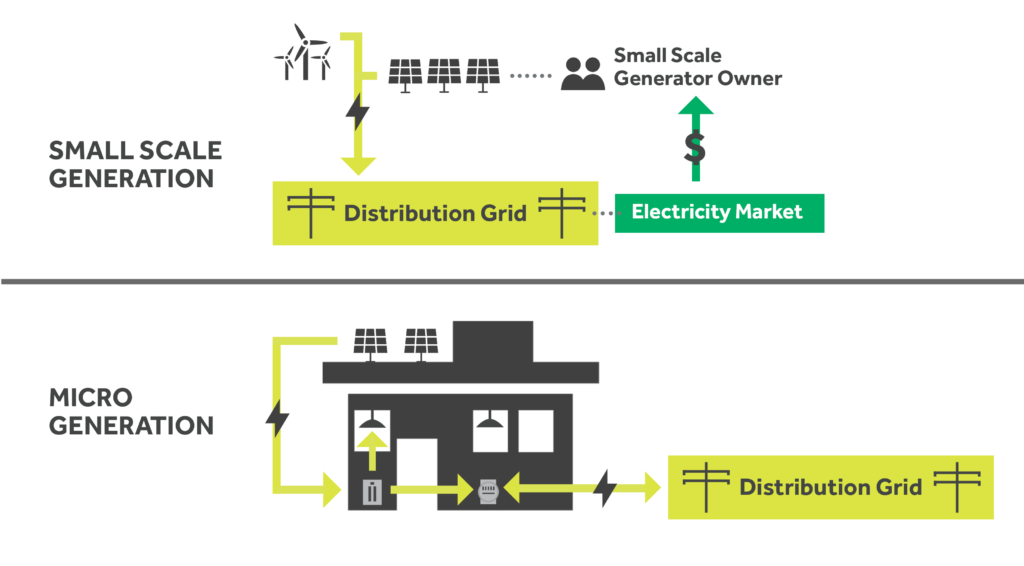 Figure 2 shows the difference between small scale generation and micro-generation:
Small scale generators are connected directly to the distribution grid (not behind a meter), and sell all of the electricity they produce to the electricity market.
Micro-generators are not participants in the Alberta wholesale electricity market. The micro-generation unit first powers the facility it is connected to, with excess electricity being sent to the grid, creating a credit on the associated electricity bill.
Community Generation
Community generation is a subset of small scale generation. It is a form of renewable electricity generation that is connected directly to the distribution grid and provides tangible benefits to communities, as shown in Figure 3.
Energy Efficiency Alberta indicates, "To qualify as a community generating unit, projects must demonstrate social, economic and/or environmental benefits to the community, such as training and development opportunities, contributions to a community endowment fund or development of community infrastructure."
Tip: Community generation projects must have either a Community Benefits Statement or a Community Benefits Agreement approved by the Alberta Utilities Commission before they are approved as community generating units.
Community generation projects must use a renewable or alternative energy source, such as:
solar PV,
fuel cells,
wind,
small-scale hydro,
biomass, or
geo-thermal.
Unlike small scale generation, if a generating unit qualifies as a community generator, the owner of the local distribution grid must cover the cost of the meter that is installed to track how much electricity the generator produces. Community generation projects have also been eligible to participate in several different provincial grant programs and initiatives.
While regulations are put in place by the Government of Alberta through the Electric Utilities Act, the Alberta Utilities Commission creates the rules for acceptable practices within these regulations. Rule 024 establishes the details for micro-generation. The Alberta Utilities Commission is currently developing the rules for small scale generation.
Tip: Information on the Alberta Utilities Commission current engagement and rule development process for small scale generation can be found here.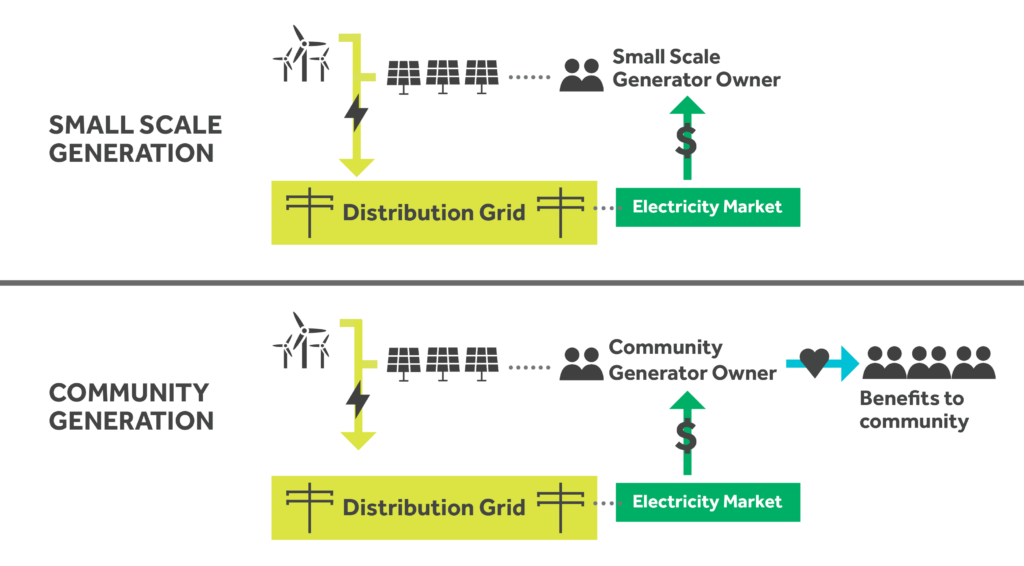 All revenue and benefits from small scale generation units are received directly by the owner, whereas community generation realizes tangible economic, environmental, and/or social benefits for the local community.
Community Generation and the Action Centre
To diversify the Alberta economy, create jobs, and build municipal resilience, the Action Centre delivered two community generation funding programs in 2019:
Community Generation Capacity Building Program provided funding to 12 organizations to complete projects focused on the pre-development of a community generation project.
Municipal Community Generation Challenge provided funding to implement community generation projects. Successful applicants will be announced in Spring 2020.
Learn how to start a community generation project
Watch the webinar with the Action Centre and Pembina Institute